End Halloween Queue Christmas… It feels like that is how things are these days and I don't mind one bit.  I love everything about the Holiday Season.  From Christmas music to Santa Claus to lots of toys; there is no better time of year than now.  In prepping for the holidays I was invited to the AWESOME #MomMixer put on by the FABULOUS Whitney from Mommies With Style and equally FABULOUS Colleen from Classy Mommy.  These ladies not only put on an amazing, exciting and fun event but they are warm, welcoming and wonderful hostesses.
To kick off my day at the Mom Mixer, which was at the Hyatt at the Bellvue on Broad Street in Philadelphia, I met my longtime buddy Elmo and we hugged it up.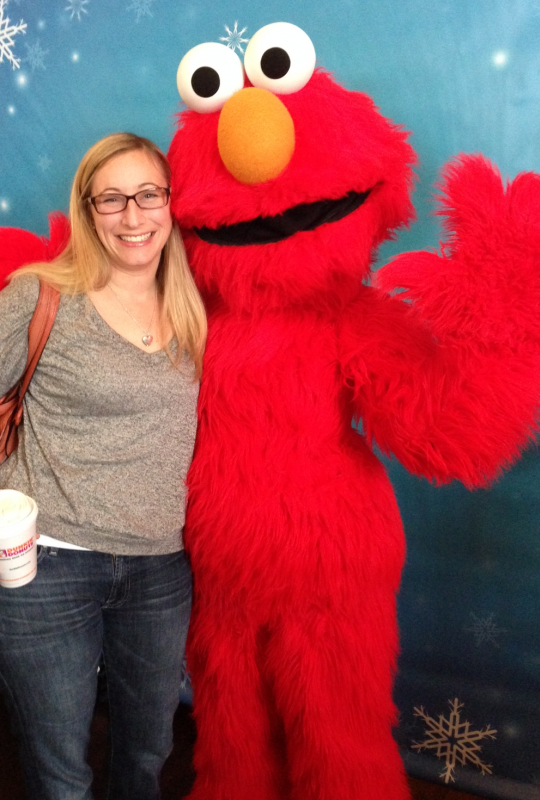 After meeting Elmo I headed over to the Hasbro booth and immediately started singing "The best friends are FurReal Friends!"  I am well aware of Cuddles the FurReal Friends Monkey and all that she does since my 3 year old Hayley has her high on her Santa list.  Hayley wasn't too happy when she saw photos of me holding Cuddles but I was…she is so sweet and well…Cuddly!
I "worked" the room with my blogging partner in crime and real life good friend Lindsay from The Naughty Mommy and she was so amazed by the Diaper Sealer Disposable System by Tommee Tippee that she REALLY gave it the sniff test.  
We were all happy when Lindsay reported that it in fact did NOT stink!  Their new technology sort of shrink wraps diapers in the pale.  Wait for Lindsay's review coming soon.  I will NOT be reviewing it because, queue singing fairies, my kids are out of diapers!!  I will be checking out their sippie cups though (I am already a fan!)
We met reps from Children's Advil (our go to meds for fevers) and they told us about the Children's Advil Feel Better Activity Center.  Unfortunately last week both my kids were home sick but we actually checked out the Activity Center Multiple times.  It's a great resource for an unplanned day at home resting.  You can check it out here https://www.facebook.com/childrensadvil/app_485417978208719
I also got to meet reps for Robitussin, although my kids are too young for Robitussin I did get to spin their wheel and feel like Vanna for a moment.
Next Lindsay and I were reunited with our new friend Jimmy from Just Play Toys!  Oh yes, we got our photo with Jimmy too!!  Just Play Toys is the maker of all the Doc McStuffins toys that both of my kids LOVE.  I get check up's on a daily basis and watch for my reviews on their Make Me Better Playsets.  They were a huge help when my kids were sick last week too!
Talk about a great stocking stuffer and must have item Vaseline Lip Therapy, Rosy Lips is awesome!! I need to stock pile it for the winter.  We are all fair skinned so when we have chapped lips our skin turns red too.  Vaseline Lip Therapy has brought back the moisture (so you can wear lipstick in the winter without looking cracked)  They even have this OH SO COOL bejeweled version that you can buy at Kitson for $45
Vaseline was also showcasing their Spray and Go Moisturizer, it's actually pretty awesome.  No more lotion under your nails from tubs of lotion.  Just spray it on, rub it in and GO!  Their scents are delish too!!
When all was said and done we left so happy and excited for all the new products we got to check out!!  I even spoke to a CVS Extra Care rep about my husbands bizarre obsession with their coupons! It was a fabulous event that has become something I truly look forward to.
Thanks again to Whitney and Colleen the hostesses with the mostesses!