On a rare weekend day with no soccer in the forecast, we decided to take full advantage of the time off and head into Philadelphia with the kids.  We were invited by the Walnut Street Theatre to attend their Kids Series show Aladdin, Jr.!  Last winter we were lucky enough to check out Annie and it really made such an impression on the kids.  For me it reminded me of growing up and being lucky enough to see so many shows in NYC from the Paper Bag Players to Cats and many more!   Anyway, with a free day on hands we headed into Philadelphia for lunch and a show. 
When we arrived the kids were bursting with excitement and they had so many questions during the show.  How do they make the smoke?  Are the actors kids? How do they practice if they have school?  Where to they live? Do they want to be actors?  With all of those questions, after the show Derek and Hayley got to go backstage and interview Milena, a 14 year old from Pennsylvania that was cast as Genie in the show.  Milena brought so much excitement to the show as well an humor.  She was vibrant, exciting and really brought the character of Genie to life for the kids.  The Walnut Street Theatre hosts a camp for kids over the summer.  After camp the kids, Milena included, were able to audition for Aladdin, Jr.  Milena said her first choice was to play Genie and she was so excited when she got it.  You could tell how passionate she was and that she really put her whole heart into her part.  
Derek and Hayley had so many questions for Milena which she handled like a pro!  She was kind and patient with them, as they were way more nervous than she was! 
Want to check out some of the Walnut Street Theatre shows for kids??  See below for the schedule, hopefully Milena will me in more shows coming up!!
2018–19 Walnut Street Theatre for Kids Shows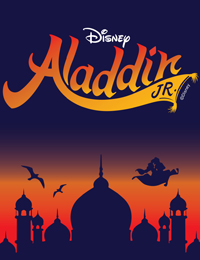 Disney's Aladdin, Jr.
September 22–30, 2018
Music by ALAN MENKEN · Lyrics by HOWARD ASHMAN, TIM RICE, and CHAD BEGUELIN · Book by CHAD BEGUELIN · Based on the Disney film written by RON CLEMENTS, JOHN MUSKER, TED ELLIOT and TERRY ROSSIO · Directed and Produced by RON CLEMENTS and JOHN MUSKERBased on the timeless animated film and hit Broadway show, Disney's Aladdin, Jr. is filled with magic and thrills the whole family will enjoy. When street urchin Aladdin falls for the strong-willed Princess Jasmine, he gets help from a fun-loving Genie to outsmart the wicked Jafar and win her hand. Get on your flying carpet and join us on a soaring musical adventure!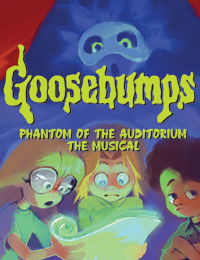 R.L. Stine's GOOSEBUMPS: Phantom of the Auditorium
February 2–9, 2019
Adapted for the stage with book and lyrics by John Maclay, music and lyrics by Danny Abosch. Orchestrations and Arrangements by Danny Abosch. Book, Lyrics, Songs, All Arrangements & All Orchestrations ©2016. 2017 Scholastic Entertainment Inc. All Rights Reserved.This frighteningly fun musical based on the beloved series from R. L. Stine investigates the strange things happening during rehearsals of Brooke and Zeke's school play. Is it a practical joke or is the school's theater really haunted? Follow the two on a silly and (only a little) spooky musical mystery.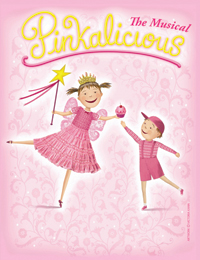 Pinkalicious: The Musical
March 29 – April 13, 2019
Book by ELIZABETH KANN and VICTORIA KANN · Music by JOHN GREGOR · Lyrics by JOHN GREGOR, ELIZABETH KANN, and VICTORIA KANN · Based on the book Pinkalicious by VICTORIA KANN and ELIZABETH KANNDespite warnings from her parents, Pinkalicous Pinkerton eats too many pink cupcakes—and ends up turning pink from head to toe! But when things really begin to go too far, it's up to Pinkalicous to find her true colors once again. This cupcake-tastic musical is a fun and charming story for kids of all ages.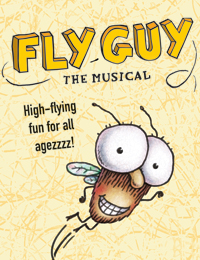 Fly Guy: The Musical
May 31 – June 9, 2019
Book and Lyrics by AUSTIN ZUMBRO · Music by AUSTIN ZUMBRO · ™ & © Scholastic Inc. · SCHOLASTIC, FLY GUY, and associated logos are trademarks of Scholastic Inc. Art © 2016 TEDD ARNOLD · Based on the book FLY GUY by TEDD ARNOLD. All rights reserved.Buzz thinks he has the best pet in the world: a fly named Fly Guy who even goes to school with him every day. But when Buzz and Fly Guy find themselves on a field trip to a flyswatter factory, their friendship is needed to outsmart the Super Swatter 6000! You'll be buzzing with songs and laughter as our favorite tiny pet saves the day with his fly movezzz!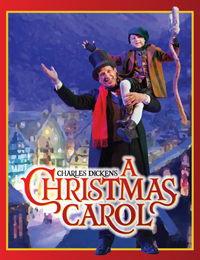 Charles Dickens' A Christmas Carol
December 1–23, 2018The Walnut Street Theatre is proud to present Charles Dickens' A Christmas Carol. Our holiday magic begins when a troupe of actors appear at the historic Walnut Street Theatre to set up and perform the heartwarming tale of Ebenezer Scrooge. We all know this grumpy old miser's response to holiday cheer is "Bah, Humbug." Scrooge is a bitter old man who can no longer feel joy or affection, even for his family. But on one remarkable Christmas Eve, he is visited by the Ghosts of Christmas Past, Present and Future. With their help, can Scrooge change his ways?
You and your favorite kids are in for a treat with a special hour-long adaptation which uses original and traditional songs to highlight Dickens' powerful story. Deck the halls as our holiday spirits travel beyond the